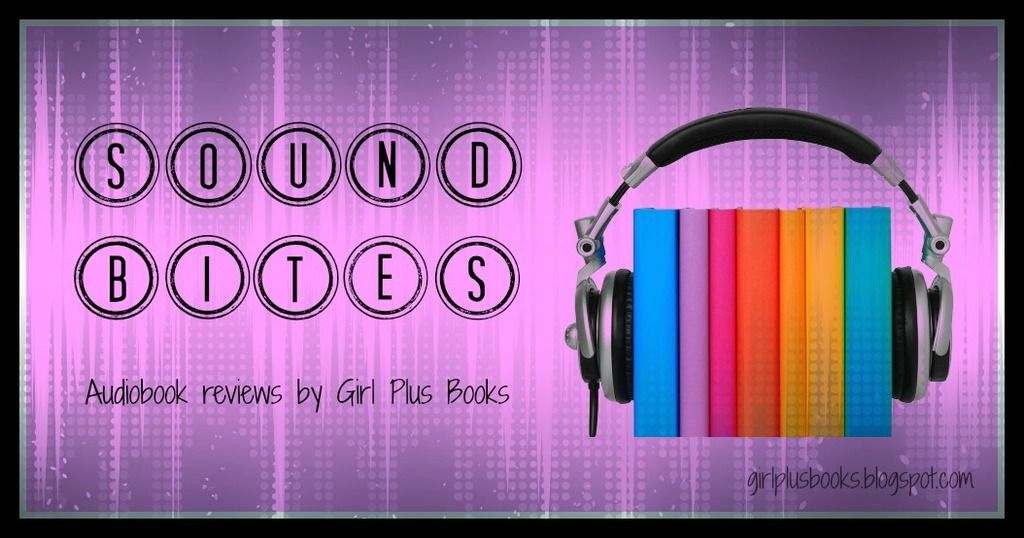 I've really done an about face over the last year when it comes to audio books. I enjoy listening on my daily commute and I almost almost have one downloaded from my library's Overdrive app that I'm currently listening to (in addition to whatever I'm currently reading). However, I'm a total purist when it comes to reading and while audio books can be fun, for me it's never as rich an experience as actually reading the physical book. Because of that, my thoughts are pretty brief and I'll be combining a couple reviews in each
Sound Bites post.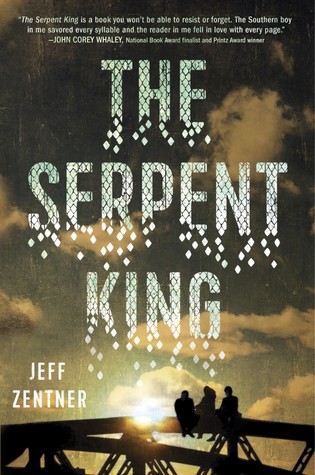 The Serpent King by Jeff Zentner
Narrated by:

Michael Crouch, Ariadne Meyers, Ethan Sawyer
Genre: Young Adult, Contemporary
Published: March 8, 2016
Read: February 6-11, 2017
Synopsis:
Dill has had to wrestle with vipers his whole life at home, as the only son of a Pentecostal minister who urges him to handle poisonous rattlesnakes, and at school, where he faces down bullies who target him for his father's extreme faith and very public fall from grace.
The only antidote to all this venom is his friendship with fellow outcasts Travis and Lydia. But as they are starting their senior year, Dill feels the coils of his future tightening around him. Dill's only escapes are his music and his secret feelings for Lydia, neither of which he is brave enough to share. Graduation feels more like an ending to Dill than a beginning. But even before then, he must cope with another ending- one that will rock his life to the core.
WHAT I LIKED:
Zentner managed to cover a wealth of topics in The Serpent King and yet always made them blend together into one cohesive story. Family, friendship, poverty, religion, abuse and more
. I adored main character Dill even as my heart broke for him and his home life. Dill was a classic example of the sins of the father being visited upon the son. With his zealot father in prison and his mother little more than a mouthpiece for his father, Dill struggled with the fallout of his father's trial and conviction (poverty, ridicule, publicly shunned) and with his own faith and beliefs. His saving grace: best friends Travis and Lydia. Travis was a sweet, gentle soul, content to stay put in their small, Southern town as his friends made plans to move on. He found escape from his abusive home in a fantasy book series and reveled in the connection he made online with a like-minded girl. Travis was precious and somehow managed to hang on to his innocence and his sweet nature despite the ugliness at home.
I loved these fully formed characters. My heart ached for their struggles and I cheered at their triumphs. I loved Lydia's father and his willingness to lend support to a young man who so desperately needed a helping hand and someone to believe in him. Having my favorite narrator, Matthew Crouch, provide Dill's voice only added to the richness of the story.
Lastly, without giving any spoilers, I want to mention a particular scene that was written so well, and performed so perfectly by Crouch, that it gave me chills. Even though it's been almost two months since I read The Serpent King, that scene has stayed with me and will continue to do so for a very long time. I often encounter books and stories that are overall memorable, but it's not often that a writer manages to make a scene so completely unforgettable. Kudos to Zentner for that. (For those that have read the book, it's the scene with a character on the phone and (s)he repeatedly asks "Is my mom there?" You know the scene.)
WHAT I DIDN'T LIKE: While I truly appreciated and was moved by the overall story, and while I loved Dill and Travis, Lydia was the one weak spot for me. There's really no other way to put it than: I didn't like her. Lydia lived in relative privilege - the daughter of a dentist in a small town, she drove her own car, had no concerns about paying for college, had two loving parents, and had found a level of success with her fashion blog. And instead of seeing her own life for what it is was in comparison to her friends, she seemed to remain oblivious to the wide gap in their experiences. Even her own father finally called her out on her behavior. She hung out with Dill and Travis because she didn't fit in with the others at their small town school, but I never considered her to be a true friend to them. They were fine to spend time with on her terms but she basically denied their existence to those whose opinions mattered to her. Nice, Lydia, very nice. While she may have come around somewhat at the end, it was too little, too late for me.
4/5 STARS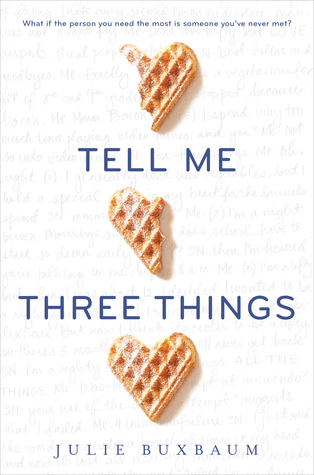 Tell Me Three Things by Julie Buxbaum
Narrated by:

Jorjeana Marie
Genre: Young Adult, Contemporary
Published: April 5, 2016
Read: February 13-17, 2017
Synopsis:
Everything about Jessie is wrong. At least, that's what it feels like during her first week of junior year at her new ultra-intimidating prep school in Los Angeles. Just when she's thinking about hightailing it back to Chicago, she gets an email from a person calling themselves Somebody/Nobody (SN for short), offering to help her navigate the wilds of Wood Valley High School. Is it an elaborate hoax? Or can she rely on SN for some much-needed help?
It's been barely two years since her mother's death, and because her father eloped with a woman he met online, Jessie has been forced to move across the country to live with her stepmonster and her pretentious teenage son.
In a leap of faith—or an act of complete desperation—Jessie begins to rely on SN, and SN quickly becomes her lifeline and closest ally. Jessie can't help wanting to meet SN in person. But are some mysteries better left unsolved?
WHAT I LIKED:
I'm a total sucker for YA contemporary that isn't overly sweet and can deliver the feels - and Tell Me Three Things was just that. Still reeling from her mother's death, Jessie finds herself uprooted from the life she knew in Chicago and transplanted to a big house and an elite school in Los Angeles. Her father has remarried, a woman Jessie had never even met, and suddenly she's navigating a life she no longer recognizes. Enter S/N, who offers help and advice and over time becomes her closest confidante.
Jessie was a likable character and one that I had a lot of respect for. I kept thinking that in similar circumstances I would have locked myself in my room, refused to come out, and cried until I couldn't cry anymore. But this girl was mature, down to earth, and a total trooper. She held her head high, even when she was falling apart inside. Her conversations with S/N were a total highlight and I loved how they ranged from random to intimate. Even though the "mystery" of S/N seemed painfully obvious (from a reader's standpoint, not so much for Jessie) I still loved the journey. And the reveal scene at the end was perfection. Equal parts funny, emotional and adorable, Tell Me Three Things was a hit.
WHAT I DIDN'T LIKE: Jessie's father is one of the worst examples of parenting I've come across in a while. No, he wasn't physically or verbally abusive... he wasn't anything. It was as if he checked out of the parenting role completely - first, immersed in his own grief, and then with his new wife/life. He left Jessie on her own to deal with her grief, a move across the country, a new step-mother and step-brother, a new school... with zero emotional support from him. I was so disappointed in him and so outraged on Jessie's behalf. While he may have been an accurate portrayal of a man mired in his own grief, his outward lack of concern and involvement with Jessie had me fuming.
4.25/5 STARS