I'm a little bit late with this, since we're already two weeks into June, but let's just go with it, shall we? Better late than never and all that. There are actually two that have already released this month that I've read, so I won't list them below but you can check out my reviews for Jennifer L. Armentrout's Storm and Fury and Jennifer Weiner's Mrs. Everything.
Now on to the summer releases that I'm most excited for...
June 18
Molly Alcott didn't expect to open her mailbox one summer morning and find an old letter stuffed between bills and a supermarket flyer. Penned in familiar handwriting, dated over fifteen years ago, the letter was written to Molly after her first date with the man she'll never forget.

Week after week, new letters appear. Each marks an event in the history of their epic love affair. Each heals a wound. Each holds the confession of the man who still owns Molly's heart.

The letters are full of promise, hope and love, but truth be told, Molly wishes she could unread them all.

Because the man who wrote these letters is not the one sending them.
I've been wanting to read something by Devney Perry for quite a while. The synopsis of this upcoming release definitely grabs me so this might be the one I start with.
June 25
Three years ago I met the most amazing girl in the world. We were both down on our luck. Then I got that call—the one that tells you to get your buns on a plane to go meet your destiny.

But the girl was left behind. I didn't have her phone number, and she didn't know my real name.

While I became a professional hockey player, she became a superstar, with platinum records and legions of fans. And a slick, music producer boyfriend who treated her badly.

But fate wasn't done with us yet. When Delilah turns up at a hockey game, I can't resist making contact. The internet swoons when I ask her out on a date.

She might not remember me. But her jerkface ex does. He'll do anything to keep us apart.

Good thing athletes never give up. This time I'm playing for keeps.
I mean, it's Sarina Bowen. Need I say more?
June 25
When his dad is caught embezzling funds from half the town, Rob goes from popular lacrosse player to social pariah. Even worse, his father's failed suicide attempt leaves Rob and his mother responsible for his care.

Everyone thinks of Maegan as a typical overachiever, but she has a secret of her own after the pressure got to her last year. And when her sister comes home from college pregnant, keeping it from her parents might be more than she can handle.

When Rob and Maegan are paired together for a calculus project, they're both reluctant to let anyone through the walls they've built. But when Maegan learns of Rob's plan to fix the damage caused by his father, it could ruin more than their fragile new friendship...

This captivating, heartfelt novel asks the question: Is it okay to do something wrong for the right reasons?
My reading of YA has waned to almost nil but I make an exception for Brigid Kemmerer. I love her contemporary YA novels and I've read some excellent early reviews for this one.
July 9
Meet Nina Hill: A young woman supremely confident in her own...shell.
The only child of a single mother, Nina has her life just as she wants it: a job in a bookstore, a kick-butt trivia team, a world-class planner and a cat named Phil. If she sometimes suspects there might be more to life than reading, she just shrugs and picks up a new book.

When the father Nina never knew existed suddenly dies, leaving behind innumerable sisters, brothers, nieces, and nephews, Nina is horrified. They all live close by! They're all--or mostly all--excited to meet her! She'll have to Speak. To. Strangers. It's a disaster! And as if that wasn't enough, Tom, her trivia nemesis, has turned out to be cute, funny, and deeply interested in getting to know her. Doesn't he realize what a terrible idea that is?

Nina considers her options.
1. Completely change her name and appearance. (Too drastic, plus she likes her hair.)
2. Flee to a deserted island. (Hard pass, see: coffee).
3. Hide in a corner of her apartment and rock back and forth. (Already doing it.)

It's time for Nina to come out of her comfortable shell, but she isn't convinced real life could ever live up to fiction. It's going to take a brand-new family, a persistent suitor, and the combined effects of ice cream and trivia to make her turn her own fresh page.
I've yet to read anything from Abbi Waxman, but I'm intrigued by this one and think it might be an excellent read.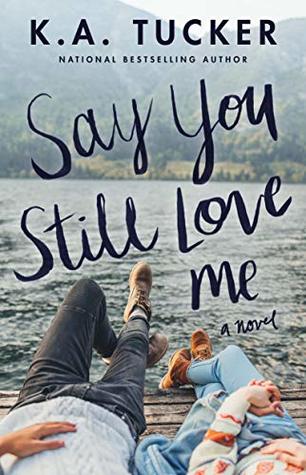 August 6
Life is a mixed bag for Piper Calloway.

On the one hand, she's a twenty-nine-year-old VP at her dad's multibillion-dollar real estate development firm, and living the high single life with her two best friends in a swanky downtown penthouse. On the other hand, she's considered a pair of sexy legs in a male-dominated world and constantly has to prove her worth. Plus, she's stuck seeing her narcissistic ex-fiancé—a fellow VP—on the other side of her glass office wall every day.

Things get exponentially more complicated for Piper when she runs into Kyle Miller—the handsome new security guard at Calloway Group Industries, and coincidentally the first love of her life.

The guy she hasn't seen or heard from since they were summer camp counsellors together. The guy from the wrong side of the tracks. The guy who apparently doesn't even remember her name.

Piper may be a high-powered businesswoman now, but she soon realizes that her schoolgirl crush is not only alive but stronger than ever, and crippling her concentration. What's more, despite Kyle's distant attitude, she's convinced their reunion isn't at all coincidental, and that his feelings for her still run deep. And she's determined to make him admit to them, no matter the consequences.
K.A. Tucker is basically an auto-buy author for me. I've loved almost everything she's written and this one sounds right up my alley.
August 8
You thought they were just staying for the weekend. They looked harmless enough – with only two suitcases and a cat in a wicker box.

But soon things turn very, very dark. It happens slowly, yet so extraordinarily quickly.

Now you and your sister must find a way to survive.
Not much of a synopsis is it? But Lisa Jewell writes the kind of mystery/thrillers that I love so I don't need to be sold on it. I already have grabby hands.
August 20
See you on the other side.

Laya Marston's husband, Cameron, a daredevil enthusiast, always said this before heading off on his next adventure. He was the complete opposite of her, ready and willing to dive off a cliff-face, or parachute across a canyon—and Laya loved him for it. But she was different: pragmatic, regimented, devoted to her career and to supporting Cameron from the sidelines of his death-defying feats.

Opposites attract, right?

But when Cameron dies suddenly and tragically, all the stages of grief go out the window. Laya becomes lost in denial, living in the delusion that Cameron will come back to her. She begins posting on his Facebook page, reminiscing about their life together, and imagining new adventures for the two of them.

Micah Evans, a young and handsome architect at Laya's father's firm, is also stuck––paralyzed by the banal details of his career, his friendships, and his love life. He doesn't know what he's looking for, only that there is someone out there who can bring energy and spirit to the humdrum of his life.

When Micah discovers Laya's tragic and bizarre Facebook posts, he's determined to show Laya her life is still worth living. Leaving her anonymous gifts and notes, trying to recreate the sense of adventure she once shared with her late husband, Micah finds a new passion watching Laya come out of the darkness. And Laya finds a new joy in the experiences Micah has created for her.

But for Laya, letting another man in still feels like a betrayal to her late husband. Even though Micah may be everything she could wish for, she wonders if she deserves to find happiness again.
I love Renee Carlino and a few of her novels have become real favorites. The advance reviews for The Last Post are a bit... underwhelming (an average GoodReads rating of 3.23 as of this writing - yikes) but I still have high hopes.
August 20
A provocative love story between a tough Kansas woman on a crooked path to redemption and the unlikeliest of champions, from the New York Times bestselling author of All the Ugly and Wonderful Things.

Zee is nobody's fairy tale princess. Almost six-foot, with a redhead's temper and a shattered hip, she has a long list of worries: never-ending bills, her beautiful, gullible sister, her five-year-old nephew, her housebound mother, and her drug-dealing boss.

Zee may not be a princess, but Gentry is an actual knight, complete with sword, armor, and a code of honor. Two years ago the voices he hears called him to be Zee's champion. Both shy and autistic, he's barely spoken to her since, but he has kept watch, ready to come to her aid.

When an abduction tears Zee's family apart, she turns to the last person she ever imagined--Gentry--and sets in motion a chain of events that will not only change both of their lives, but bind them to one another forever.
Greenwood's All the Ugly and Wonderful Things, caused quite a stir and was certainly divisive, but I thought it was brilliant and moving and it instantly became an all-time favorite. I am so excited for her first release since 2016.
Are you looking forward to any of these upcoming releases? What summer release are you most excited for?