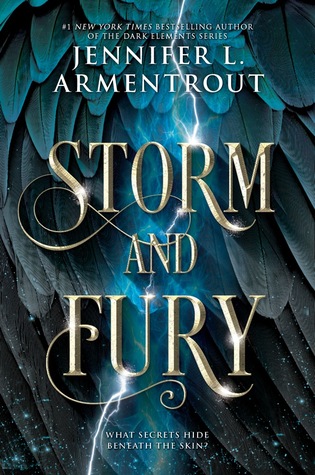 STORM AND FURY
Jennifer L. Armentrout
Publication date: Jun 11, 2019
Series: The Harbinger #1
Genres: YA, Paranormal/Fantasy, Romance
Format: eARC
Source: Inkyard Press and NetGalley
GOODREADS * AMAZON
Eighteen-year-old Trinity Marrow may be going blind, but she can see and communicate with ghosts and spirits. Her unique gift is part of a secret so dangerous that she's been in hiding for years in an isolated compound fiercely guarded by Wardens—gargoyle shape-shifters who protect humankind from demons. If the demons discover the truth about Trinity, they'll devour her, flesh and bone, to enhance their own powers.

When Wardens from another clan arrive with disturbing reports that something out there is killing both demons and Wardens, Trinity's safe world implodes. Not the least because one of the outsiders is the most annoying and fascinating person she's ever met. Zayne has secrets of his own that will upend her world yet again—but working together becomes imperative once demons breach the compound and Trinity's secret comes to light. To save her family and maybe the world, she'll have to put her trust in Zayne. But all bets are off as a supernatural war is unleashed.
M Y T H O U G H T S
As someone who devoured Armentrout's Dark Elements series (#TeamRoth), I was ecstatic when I learned she was creating a spin-off series. And Storm and Fury delivered in every way.
At 18, Trinity has spent the last decade isolated from the outside world in a community of Wardens – shapeshifting Gargoyles who protect humans from demons. But Trinity is not a Warden and her true identity is a closely guarded secret. The arrival of Wardens from the Washington D.C. clan and an unprecedented attack in a place of safety sets in motion a series of events that changes everything.
Trinity was an easy character to pull for. Strong and capable, with abilities that few know about, she was one badass heroine. Still dealing with grief from her mother's untimely death and coping with an eye disease that severely impacted her vision (in fact, the same eye disease Armentrout herself has), Trinity had her fair share of challenges. But the girl also had incredible backbone and resilience and I loved that about her. She was often reckless and tended to act first/think later (which, honestly, is a trait most of Armentrout's heroines share), but I couldn't fault her for her bravery and willingness to face danger instead of cowering in a corner. When she paired up with Zayne (the guy-not-chosen from the Dark Elements series) the sparks flew. Trinity and Zayne verbally sparred and pushed each other's buttons and there was some serious chemistry when they were together. Zayne was dealing with his own issues, including the recent death of his father who was the D.C. clan leader, and I liked the way he and Trinity explored their connection.
For a relatively lengthy YA paranormal (topping 500 pages), I flew through this story that was packed with action, danger, secrets, romance, and twists and turns I didn't see coming. I appreciated the addition of characters I knew and loved from the original series (Roth and Layla, Cayman, and Bambi!) along with new additions like Peanut, a ghost from the 1980's that Trinity could see and who offered plenty of comic relief. There were some eye-rolling moments, like Armentrout's signature use of cheesy exclamations ("Holy crap on a cracker the size of Texas", and "Holy crapsicles" being prime examples) and the fact that characters often had the time and wherewithal during dangerous situations to break out some snarky (and still cheesy) quips. But those were minor distractions compared to my overall enjoyment of everything Storm and Fury had to offer.
I loved stepping back into this world of Wardens and demons, but never fear – you don't have to read the Dark Elements trilogy in order to experience Storm and Fury. There is plenty here to draw in both new readers and longtime fans. A badass heroine, some swoony moments, some laugh out loud lines, an epic battle, and an ending that will have you begging for more… Storm and Fury has it all. Armentrout delivered a nonstop good time and I was all for it.
Note: I received a complimentary copy of this book from the publisher. This does not impact my opinion of the book or the content of this review. I received no compensation and my review is voluntary.