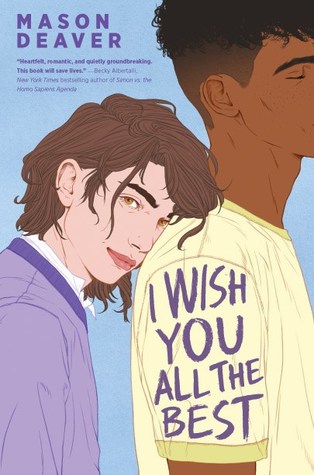 I WISH YOU ALL THE BEST
Mason Deaver
Publication date: May 14, 2019
Genres: YA, Contemporary, LGBT
Format: Audiobook
Source: Hoopla
Narrator: MW Cartozian Wilson
Length: 8 hrs 34 min
GOODREADS * AMAZON
When Ben De Backer comes out to their parents as nonbinary, they're thrown out of their house and forced to move in with their estranged older sister, Hannah, and her husband, Thomas, whom Ben has never even met. Struggling with an anxiety disorder compounded by their parents' rejection, they come out only to Hannah, Thomas, and their therapist and try to keep a low profile in a new school.
But Ben's attempts to survive the last half of senior year unnoticed are thwarted when Nathan Allan, a funny and charismatic student, decides to take Ben under his wing. As Ben and Nathan's friendship grows, their feelings for each other begin to change, and what started as a disastrous turn of events looks like it might just be a chance to start a happier new life.
At turns heartbreaking and joyous,
I Wish You All the Best
is both a celebration of life, friendship, and love, and a shining example of hope in the face of adversity.
M Y T H O U G H T S
Ben identified as non-binary - and was kicked out of their home because of it. The first couple chapters absolutely broke my heart. This kid, standing outside in January, with no shoes on their feet, trying to call a sister they hadn't seen in ten years to come pick them up. It was like a gut punch.
Ben was precious. They were so sweet and so loving but their coming out experience had left them fearful and distrustful of possible reactions from others. There were so many times when I was silently begging Ben to speak up, to open up to their sister, to share their fears. But when I thought of myself at that age, and all the times I stayed silent and kept my fears and my worries to myself rather than voice them... I understood and I empathized. Ben struggled with anxiety and depression and panic attacks and my heart hurt that they were traveling such a rocky road on the way to finding solid ground.
There were so many aspects of this story that I loved. Ben's friend Nathan was kind and patient and always so upbeat. Everyone should be so lucky to have a Nathan in their life. Hannah and Thomas, Ben's sister and brother-in-law, were supportive and tried so hard. The story was therapy-positive and presented Ben's experience with their therapist as so worthwhile and affirming.
There were a couple instances where it felt like some character reactions were a little
too
perfect. They managed to say the exact right thing at the exact right time, and that made it feel a tiny bit inauthentic during those moments, but that was my only quibble.
There came a point in this story where my heart was breaking for Ben (yet again) for all that they had to deal with. For all the hurt at the hands of the people who were supposed to love them unconditionally. For all the confusion they felt and for the fear of rejection. For their desire to just be accepted for who they were even as they worked to fully understand that themself. I found myself crying for Ben but I reminded myself that this was a work of fiction and there was no need to be so heartsick.
Then I thought about how, even though Ben may be a fictional character, there are so many real-life Ben's out there, facing the same hurt and confusion and fear.
And then I cried even harder.
ABOUT MASON DEAVER

Mason Deaver is a non-binary author who lives in Charlotte, NC, where the word 'y'all' is used in abundance.

Typically, they're writing incredibly queer stories, but when they decide to take a break, they love gardening and baking.