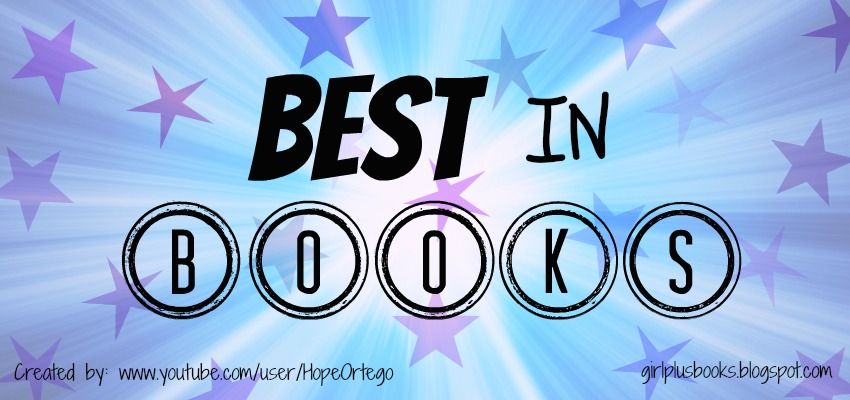 A playlist of her Best In Books videos can be found HERE.
_________________________________________________
Welcome to my Best in Books for October! Best In Books was created by my friend Hope and she was kind enough to let me join in on her feature (because she's awesome that way). Her BookTube channel is linked above and I hope you'll check her out. Now on to all the best bookishness in October...

Hannah was a new adult main character that I could really get behind. She was intelligent, strong, determined and could be a total smart-ass with Garrett, taking him down a notch or three when he needed it. I loved that Hannah was no shrinking violet, swooning in the wake of the sexy jock. Quite the opposite, she totally gave him grief which led to some awesome banter. She also proved to be truly selfless even when it broke her heart to do it.

This month's best male character was a total no-brainer so pardon me while I gush. After reading ACOTAR I was intrigued by Rhys but after reading ACOMAF I am in awe. This is a character who is so selfless and so dedicated to his people that is willing to do literally anything to ensure their care and protection. He is able to see the big picture and plan and strategize over the long term, but is still able to live in the moment and appreciate what is around him. I love his loyalty to his friends and his wit. And his care and concern and love for Feyre was what truly did me in. He saw her when those around her didn't. And he saw in her what she didn't even see in herself. The third book doesn't come out until May 2017 but I need more Rhys in my life now.
Furiously Happy
I listened to the audio version of Furiously Happy last month (recommended by Grace at Rebel Mommy Book Blog) and it truly has to be one of the funniest things I've ever read/heard. I'm not even sure I can pick a specific line or passage because every line from Jenny Lawson had me howling. Plus, taken out of context, they might just sound weird. Although, to be honest, even in context a lot of it was weird. :) But here's just one little snippet:
"AWESOME. In fact, I'm starting a whole movement right now. The FURIOUSLY HAPPY movement. And it's going to be awesome because first of all, we're all going to be VEHEMENTLY happy, and secondly because it will freak the shit out of everyone that hates you because those assholes don't want to see you even vaguely amused, much less furiously happy, and it will make their world turn a little sideways and will probably scare the shit out of them. Which will make you even more happy. Legitimately. Then the world tips in our favor. Us: 1. Assholes: 8,000,000. That score doesn't look as satisfying as it should because they have a bit of a head start. Except you know what? Fuck that. We're starting from scratch. Us: 1. Assholes: 0."

"He thinks he'll be remembered as the villain in the story. But I forgot to tell him that the villain is usually the person who locks up the maiden and throws away the key. He was the one who let me out."

And...

"I heard every word between you. I knew you could take care of yourself, and yet … " He went back to his pie, swallowing a bite before continuing. "And yet I found myself deciding that if you took his hand, I would find a way to live with it. It would be your choice."

I sipped from my wine. "And if he had grabbed me?"

There was nothing but uncompromising will in his eyes. "Then I would have torn apart the world to get you back."
it rode in on

Simon vs. the Homo Sapiens Agenda
Loved it! Absolutely loved it! I remember when this one was *everywhere* last year I was only mildly interested. But last month I was browsing Overdrive for a new audio book and decided to download this one. And then proceeded to fall completely in love with Simon. This was charming and adorable and so precious. The narration was perfection and I know I'll also be picking up a physical copy because I want to revisit Simon and Blue again and again.

A Court of Mist and Fury
I don't want to get too carried away since my full review is coming in just a couple days, but suffice it to say that this book blew everything else out of the water this month. And there's no doubt ACOMAF will be among my favorites of the year. I think we've all read trilogies where the second book is the weak link, the filler, the break between the big introduction and the big finale. Well, Sarah J. Maas is having none of that because, if anything, ACOMAF is even stronger than ACOTAR. I felt like I was living in this book and my emotions were all over the place while reading it. By the end I was emotionally drained, utterly devastated, and totally in love with the main characters (all six of them). A Court of Mist and Fury was epic!
______________________________________________________
Now it's your turn: What was the best book you read in October?