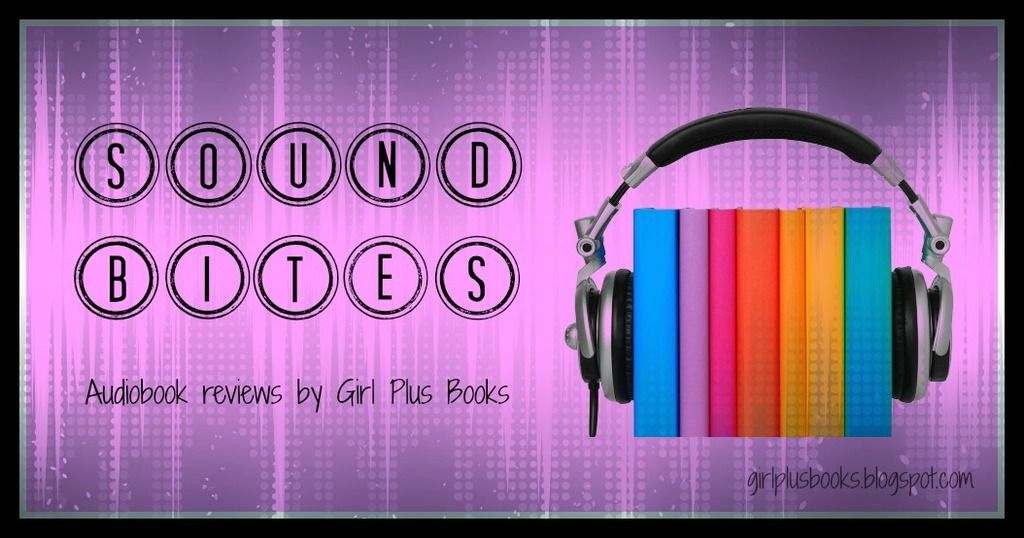 I've really done an about face over the last year when it comes to audio books. I enjoy listening on my daily commute and I almost almost have one downloaded from my library's Overdrive app that I'm currently listening to (in addition to whatever I'm currently reading). But, I'm a total purist when it comes to reading and while audio books can be fun, for me it's never as rich an experience as actually reading the physical book. Because of that, my thoughts are pretty brief so I'm combining a couple reviews into one post.
Furiously Happy by Jenny Lawson
Narrated by: Jenny Lawson
Synopsis:
In FURIOUSLY HAPPY, Jenny Lawson explores her lifelong battle with mental illness. A hysterical, ridiculous book about crippling depression and anxiety? That sounds like a terrible idea. And terrible ideas are what Jenny does best.

According to Jenny: "Some people might think that being 'furiously happy' is just an excuse to be stupid and irresponsible and invite a herd of kangaroos over to your house without telling your husband first because you suspect he would say no since he's never particularly liked kangaroos. And that would be ridiculous because no one would invite a herd of kangaroos into their house. Two is the limit. I speak from personal experience. My husband says that none is the new limit. I say he should have been clearer about that before I rented all those kangaroos."

"Most of my favorite people are dangerously fucked-up but you'd never guess because we've learned to bare it so honestly that it becomes the new normal. Like John Hughes wrote in The Breakfast Club, 'We're all pretty bizarre. Some of us are just better at hiding it.' Except go back and cross out the word 'hiding.'"

FURIOUSLY HAPPY is a book about mental illness, but under the surface it's about embracing joy in fantastic and outrageous ways-and who doesn't need a bit more of that?
WHAT I LIKED:
I rarely reach for non-fiction/memoirs but this came so highly recommended by Grace at Rebel Mommy Book Blog that I had to give it a try. And there's that cover, right? I was happy (not quite furiously happy but still happy) that I did because this collection of stories/random thoughts/vignettes from Lawson was Just. So. Funny. There were many times that I was actually laughing out loud at the random ridiculousness and the imagery it produced. And there were also times when I would stop and thing, "Wow, should I be laughing at this? It's actually pretty sad." But it goes back to Jenny's proclamation of being furiously happy out of sheer spite. :) Lastly, Jenny's narration of her own words was such a perfect touch. So much of the humor came not only from what was being said but how she said it. It just wouldn't have been the same otherwise.
WHAT I DIDN'T LIKE: My only quibble is that sometimes it just felt like too much. The over the top quirkiness was fun in small doses but I found myself having to listen in bits and pieces because too much at one time started to feel like overkill. Every random thought was taken to such an extreme degree that it was a bit exhausting.
3.5/5 STARS
Sisterhood Everlasting by Ann Brashares
Narrated by: Angela Goethals
Synopsis:
From #1 New York Times bestselling author Ann Brashares comes the welcome return of the characters whose friendship became a touchstone for a generation. Now Tibby, Lena, Carmen, and Bridget have grown up, starting their lives on their own. And though the jeans they shared are long gone, the sisterhood is everlasting.
Despite having jobs and men that they love, each knows that something is missing: the closeness that once sustained them. Carmen is a successful actress in New York, engaged to be married, but misses her friends. Lena finds solace in her art, teaching in Rhode Island, but still thinks of Kostos and the road she didn't take. Bridget lives with her longtime boyfriend, Eric, in San Francisco, and though a part of her wants to settle down, a bigger part can't seem to shed her old restlessness.

Then Tibby reaches out to bridge the distance, sending the others plane tickets for a reunion that they all breathlessly await. And indeed, it will change their lives forever—but in ways that none of them could ever have expected.

As moving and life-changing as an encounter with long-lost best friends, Sisterhood Everlasting is a powerful story about growing up, losing your way, and finding the courage to create a new one.
WHAT I LIKED:
Um... *crickets*. No, that's not really true. It was satisfying to see the series to the end. And I will admit that the ending, while not very believable, was emotional and mostly satisfying.
WHAT I DIDN'T LIKE: Oh where to start?
I can't recall reading a book where the main characters were all so thoroughly unlikable. What a bunch of miserable people! They were all equal parts selfish, self-absorbed and and just plain unlikable.
The major plot line is a major spoiler so I'm just going to talk about the characters. Three of them, in particular.
Carmen was as insufferable as ever and now, as a professional actress, came across as an obnoxious prima donna. She seemed to care more about her iPhone than anything else in her life. Seriously. She obsessed over it constantly.
Lena never had much of a personality but even less so here. She was living the smallest life possible and was so passive and timid it was pathetic. And the never-ending back and forth with Kostos... after a decade? OMG, enough already. I was desperate for one of them to just do something. Someone have enough backbone to take action. Gah!
Bridget seemed to have barely progressed since we last saw her at 19. At first it seemed like she had changed but after a significant event she was right back to her old ways - as flighty and destructive as ever. Except now, at the age of 29, it just smacked of self-indulgence and I had little empathy for her, especially when her flightiness included disappearing for months on a boyfriend who adored her. Who does that?! Any warm and fuzzy feelings I had left for Bridget vanished as soon as she behaved so cavalierly with someone who loved her.
I will say that Sisterhood Everlasting has an average rating of 3.9 on GoodReads so obviously this is a "it's not you, it's me" situation. So if you're interesting in revisiting the sisterhood and learning what has become of them, don't let my issues sway you. Because I'm definitely in the minority here.
2/5 STARS