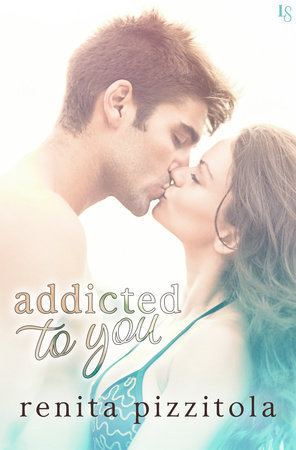 Addicted to You by Renita Pizzitola
Series:

Port Lucia #1
Genres:

New Adult, Contemporary Romance
Release Date:

November 1, 2016
Format:

Kindle
Source:

NetGalley
Synopsis
In the sleepy fishing town of Port Lucia, everyone knows everyone, but Isla Diaz really knows Colby Callahan, with his blue-gray eyes and the tousled brown hair always tucked sexily into his cap. After all, Isla has been crazy about Colby ever since she can remember—even if he treats her like a kid sister. Now, without her best friend, Felicity, around, Isla spots a golden opportunity to take things to the next level . . . or at least wrangle a kiss out of Colby.

By random chance, a tropical storm is headed toward the coast, leaving them stranded together overnight—and there's nothing to do but drink. As the evening wears on, Isla gets the feeling that her not-so-secret crush may finally release her from the friend zone. With her dreams finally coming true, Isla isn't about to pump the brakes, but is this just a one-time thing? What if the next morning, she needs more than Colby's prepared to give?

Little does she know, Colby would like nothing more than a real relationship with Isla. She's always been the one. But there's a very good reason he's been keeping his distance. Someone else loves her too, someone who also means the world to Colby: his brother.
My Thoughts
I discovered Renita Pizzitola two years ago when I came across Just a Little Crush on NetGalley. It was an absolute gem of a new adult romance and I went on to request and review Just a Little Flirt and Just a Little Kiss last year. I gave each book at least 4 stars and when I heard Pizzitola was writing a spin-off series I was so excited. I requested Addicted to You as soon as it became available and jumped right in. And... *insert huge sigh*
Isla has been in love with her best friend Colby for years. And she feels like everyone knows it... except Colby. She's leaving for nursing school soon and is determined to finally take a chance. One boozy night leads straight to Colby's bed but then she hightails it home to avoid the awkward morning after. What comes next is a series of assumptions, misunderstandings and missed opportunities that were repeated again and again.
Isla was consistently confused about Colby's feelings and yet she was never clear and upfront with him about her own feelings. It was so obvious (except to Isla) that Colby was in love her but he refused to make it known because his brother expressed an interest in her. One simple conversation with either of them saying what they felt would have solved everything. Instead, every potential talk was interrupted or abandoned, every encounter was misconstrued, and it all became very repetitive.
Another thing that was a real letdown was the fact that all this introspection of Isla's (how does Colby feel, he must not feel the same, but I love him, why is he pushing me toward his brother, etc.) took up almost the entire book. At the 85% mark I was still waiting for there to be an actual couple. Honestly, it was hard to maintain interest when there was no real relationship to read about - just a lot of build-up and missed opportunities.
Before it sounds like I have nothing good to say, there really are things that I liked. Isla was a character who was pretty self-aware (even if she didn't always act on her feelings) and I liked that she seemed determined to make the best of a situation that wasn't going the way she wanted. Colby was a real sweetheart. He loved Isla but he also loved his brother and felt like he was stuck in the middle. Unfortunately he chose everyone's happiness but his own. It's hard to fault such a selfless character. I also enjoyed the secondary characters like Isla and Colby's group of friends and Isla's doting grandmother.
It seriously pains me that I didn't love this one. The previous three novels I've read from Pizzitola were equal parts sweet and sexy, with realistic characters that I related to and empathized with. There was great banter and plenty of humor and the plots were engaging without being overly angsty. The best kind of new adult. But Addicted to You just did not hold that same charm for me.
3/5 Stars (actually more like 2.75 stars)