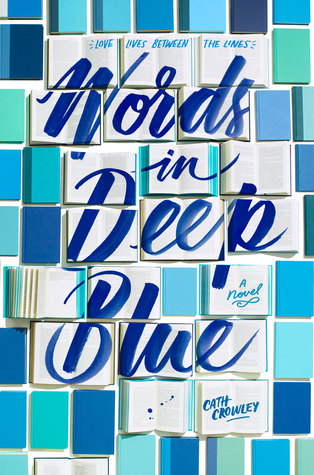 Words in Deep Blue by Cath Crowley



SYNOPSIS

Years ago, Rachel had a crush on Henry Jones. The day before she moved away, she tucked a love letter into his favorite book in his family's bookshop. She waited. But Henry never came.




Now Rachel has returned to the city - and to the bookshop - to work alongside the boy she'd rather not see, if at all possible, for the rest of her life. But Rachel needs the distraction, and the escape. Her brother drowned months ago, and she can't feel anything anymore. She can't see her future.




Henry's future isn't looking too promising, either. His girlfriend dumped him. The bookstore is slipping away. And his family is breaking apart.




As Henry and Rachel work side by side - surrounded by books, watching love stories unfold, exchanging letters between the pages - they find hope in each other. Because life may by uncontrollable, even unbearable sometimes. But it's possible that words, and love, and second chances are enough.




MY THOUGHTS

When I read the synopsis for Words in Deep Blue I was instantly intrigued. Grief + Unrequited Love + Bookstore Setting = Heartfelt, Emotional Goodness. Right? Eh, not so fast.




The set-up is pretty simple: Rachel professes her love for longtime best friend Henry in a letter the night before she moves away. He never responds and they lose touch. Rachel returns to town ten months after the death of her brother but doesn't tell anyone about him. In the interim, Henry has maintained an on-again off-again relationship with his dream girl, Amy. Amy has now dumped him and he is desperate to do whatever it takes to make her love again. Added to this is his parents' divorce and the possible sell of the family bookstore. The reappearance of his former best friend is exactly what he needs - except Rachel isn't the same and he can't figure out why.




Rachel and Henry were (usually) likable enough but I never felt any real connection with either of them. While I understood Rachel's background, she was often closed off and emotionally distant and Henry spent much of the book pining for a shallow girl who treated him poorly. The plot also relied heavily on the "lack of communication" plot device which I'm not a fan of.




I really enjoyed the cast of secondary characters, many of whom were well-developed with their own stories. It added a lot when I felt like Rachel and Henry's own stories weren't progressing. I also appreciated the bookstore setting, the Letter Library with all its letters and notes, and the dry wit of Henry and Rachel.




Words in Deep Blue ended up being one of those middle of the road reads for me. To be such a short book it often felt overly wordy and slow paced. While I enjoyed the characters and the setting, this book, whose synopsis sounded abundantly emotional, actually felt pretty emotionless.
3/5 STARS
Our Chemical Hearts by Krystal Sutherland



SYNOPSIS

Henry Page has never been in love. He fancies himself a hopeless romantic, but the slo-mo, heart-palpitating, can't-eat-can't-sleep kind of love he's been hoping for just hasn't been in the cards for him - at least not yet. Instead, he's been happy to focus on his grades, on getting into a semi-decent college and finally becoming editor of his school newspaper. Then Grace Town walks into his first period class on the third Thursday of senior year and he knows everything's about to change.




Grace Town isn't who Henry pictured as his dream girl - she walks with a cane, wears oversized boys' clothes, and rarely seems to shower. But when Henry and Grace are both chosen to edit the school paper, he quickly finds himself falling for her. It's obvious there's something broken about Grace, but it seems to make her even more beautiful to Henry, and he wants nothing more than to help her put the pieces back together.




MY THOUGHTS

Seeing Our Chemical Hearts described as John Green meets Rainbow Rowell had me intrigued. While the charm of Rainbow Rowell wasn't apparent, I totally get the John Green comparison. But I don't necessarily mean that favorably.




Henry was a likable character and even when I found myself frustrated with him and his near-obsession with Grace I still found myself pulling for him to regain his footing and get back on track. I loved Henry's friends (Lola was the best and Murray was hilarious), the quirky humor, and the fandom references ("How can she be your soulmate? Didn't you tell me she'd never read Harry Potter? Do you really want to spend the rest of your life with someone like that? I mean, for God's sake, think of your children. What kind of environment would they be growing up in with such a mother?").




But - and here's where the John Green comparison comes into play - Grace was the quintessential Manic Pixie Dream Girl. Think: Alaska from Looking for Alaska and Margo from Paper Towns. And it wasn't negated just because Henry actually protests in the book that Grace is not a Manic Pixie Dream Girl. Addressing it in print didn't make it not so. The quirky, mysterious girl with the dark past was alive and well here. And naturally our protagonist idealizes her and wants to solve the mystery and make her whole again. Henry stalked pursued her with a vengeance, sinking deeper into the mystery of Grace, while allowing his own life to suffer for it ("I somehow knew, in that moment, that Grace Town was a jagged piece of glass that I'd cut myself with again and again if I let myself get involved with her.").




Our Chemical Hearts explored some interesting themes - grief, first love, the fact that not every story has a happy ending - but ultimately it fell a bit flat for me. Instead of being drawn in by the emotional turmoil, I felt a disconnect, as if I were simply viewing it all from a distance.




3/5 STARS