It's a chance to share news - a post to recap the past week on your blog,
showcase books and things we have received, and share news about what is
coming up on your blog in the week ahead. You can find the info here:
This week felt less hectic than last week - like every minute wasn't filled with something to do - so that was a relief and a much-needed change. I took a planned day off on Friday (let's hear it for mental health days! :) and it felt so decadent to enjoy an extra day of downtime. I relaxed all morning - and read! - and did some Christmas shopping in the afternoon. It rained All. Day. Long. which was awesome because I love a good rainy day. Another bonus: I wore my rain boots all day and that always makes me happy. I splashed through every puddle I could find. It's the small things. :)
Author Lisa Jewell shared the six books she read in under 48 hours this year on BookBub. I'm assuming she means individually and not all six in 48 hours. LOL I just recently listened to The Third Wife on audio by Jewell so this article was pretty timely. I'm excited for her new release, Watching You, that comes out on the 26th.
Book Bub also shared a list of gift ideas for book lovers that was pretty cool. The library card socks are too cute!
And now I leave you with a little Love Actually musical goodness...
WHAT I READ IN THE LAST WEEK:
My reread of Maybe Someday was everything I wanted and needed. The first half of December was a slow - and slightly off reading period - and experiencing Ridge and Sydney's story again was so satisfying.
A reread of the novella featuring Warren and Bridgette was the obvious choice after Maybe Someday. Just as hilarious the second time around. I love Warren! :)
WHAT I'M CURRENTLY READING
:
After my rereads, I was primed and ready for this follow-up. I think CoHo previously had this available for free on Wattpad but I'm glad I waited 'til now to read it in book form instead of a chapter at a time. I'm at the 25% mark and am loving the multiple POVs (Sydney, Ridge, Maggie and Jake, so far).
WHAT I'M CURRENTLY LISTENING TO: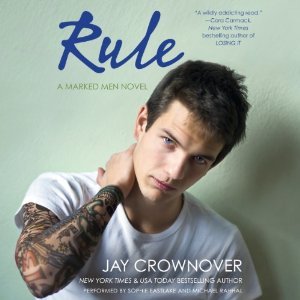 December seems to be the month of rereads for me! Which is odd because I so very rarely reread anything. But I do make an exception for the Marked Men series. I find it comforting to revisit this series and the characters I came to love. I'm about 90% through (my third time with the audio version) and it's like time spent with old friends. :)
KINDLE BOOKS
Waiting on the Sidelines #1-2
Nicci at Sunny Buzzy Books shared a cover reveal this week of the third book in a series releasing next month. Her description of the first two books, as well as the synopsis of the third, had me so hooked that I immediately one-clicked both Waiting on the Sidelines and Going Long. I actually already own two books by Ginger Scott but have not read them yet so I'm excited for these to be my introduction to her writing. Thanks for putting these on my radar, Nicci!
How was your week? Any new books? Any news to share?
I'd love to hear about it!