It's a chance to share news - a post to recap the past week on your blog,
showcase books and things we have received, and share news about what is
coming up on your blog in the week ahead. You can find the rules here:
*NEWS*
The big news last week? Jennifer Armentrout announced that Obsidian is being adapted for the big screen!
I believe Obsidian has been optioned more than once but this time it looks like it's actually happening. Ava Dellaria, author of Love Letters to the Dead, will be the screenwriter and Sierra Pictures is producing. Now for the million dollar question: who the heck will they cast as Daemon Black?! In my mind, cover model Pepe Toth *is* Daemon. While he is a model and professional athlete, I've never seen the word 'actor' attached to his name. Le sigh. Guess I'll have to just wait and see... but fingers crossed they get it right!
*LAST WEEK ON THE BLOG*
My review of Changing Tides by Sarah Darlington was posted on Tuesday. While I didn't love it as much as Kill Devil Hills, the first book in the series, it was still enjoyable. 3.5/5 stars
Thursday brought my favorite weekly meme: That's What He Said Thursday. Last week's quotes were courtesy of Dean Holder.

♥
And speaking of Holder, on Friday I shared my nearly incoherent feelings of Colleen's Hoover's Losing Hope. The follow-up to Hopeless was simply perfection and if you've read Hopeless but not Losing Hope, please... do yourself a favor and read it. You can thank me later. 5/5 stars
*NEW ADDITIONS*
I was one-clicking up a storm last week and added six new books to my Kindle:
A couple of these I bought because I saw them mentioned on other blogs but I neglected to note where the recommendations came from. If you posted about one of these lately please let me know! I'd love to be able to come back and discuss with you after I've read it. :)
*WON*
I had quite a lucky streak over the last week or so!
I also won an Amazon gift card from my friend Ashley at +Bookish Realm. Thank you, Ashley!
*CURRENTLY READING*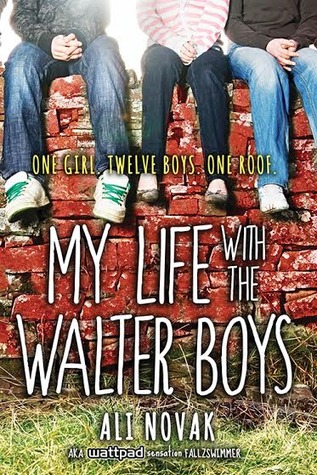 I'm a little more than halfway through My Life with the Walter Boys by Ali Novak. I saw it mentioned on a blog not too long ago (again, I forgot to make a note of who that was - must be better about that) and, since I'm all about the contemporaries, I decided to give it a try. While I'm not *loving* it, it's still a good read and I'm interested to see how it plays out.
*TOTALLY RANDOM*
Because Dorothy Parker's witticisms are the best:
So what was your week like? Any new books?
Anything interesting happen? Tell me about it
!