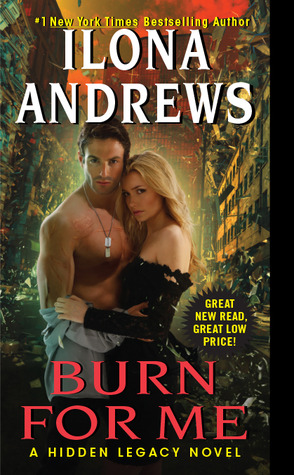 Burn For Me (Hidden Legacy #1)
Ilona Andrews
Publication date: October 28, 2014
Genres: Urban Fantasy
Nevada Baylor is faced with the most challenging case of her detective career—a suicide mission to bring in a suspect in a volatile case. Nevada isn't sure she has the chops. Her quarry is a Prime, the highest rank of magic user, who can set anyone and anything on fire.


Then she's kidnapped by Connor "Mad" Rogan—a darkly tempting billionaire with equally devastating powers. Torn between wanting to run or surrender to their overwhelming attraction, Nevada must join forces with Rogan to stay alive.


Rogan's after the same target, so he needs Nevada. But she's getting under his skin, making him care about someone other than himself for a change. And, as Rogan has learned, love can be as perilous as death, especially in the magic world.
This book has crazy high rating on GoodReads (4.35). And I was excited to read it. Find a new urban fantasy series to get into. But that didn't happen. To be fair, I don't think it's really the story. I lay 90% of the blame on the narration. It was BAD. And I really, REALLY disliked it. And basically, it ruined the book for me.
This was the first time I encountered Renee Raudman's narration and I've gotta say: not a fan. To start, there's the twangy country accents. Yes, the story is set in Texas but it's in metropolitan Houston, not hillbilly central. Then there was the voice for the main character's grandmother - an active woman who was maybe sixty and yet sounded like a frail little grandma at age 101. It was just such a cliched "little old lady" voice that it was like something out of a cartoon. In fact, most of the characters sounded years beyond their stated age - including Rogan, who sounded like a crusty old cowboy instead of a 30 year old badass.
The story was okay but a mostly unsatisfying. Nevada tried to bring in a fugitive while verbally sparring with Rogan. In one sentence she was referring to him as a psychopath, in the next she was drooling over his abs. *eye roll* But it was the narration that made Nevada unlikable, every character sound decades older than they were, and as if every Texan was a country bumpkin. Ugh. I could switch to the books instead of the audio and continue on, but I'm afraid the bad experience with this one has pretty much ruined the series for me.
This Is Kind of an Epic Love Story
Kheryn Callender
Publication date: October 30, 2018
Genres: Young Adult, Contemporary
Nathan Bird doesn't believe in happy endings.


Although he's the ultimate film buff and an aspiring screenwriter, Nate's seen the demise of too many relationships to believe that happy endings exist in real life.

Playing it safe to avoid a broken heart has been his MO ever since his father died and left his mom to unravel—but this strategy is not without fault. His best-friend-turned-girlfriend-turned-best-friend-again, Florence, is set on making sure Nate finds someone else. And in a twist that is rom-com-worthy, someone does come along: Oliver James Hernández, his childhood best friend.


After a painful mix-up when they were little, Nate finally has the chance to tell Ollie the truth about his feelings. But can Nate find the courage to pursue his own happily ever after?
Oh, the high hopes I had for this one! It's contemporary, it's YA, it had a synopsis that hooked me, my trusted book buddy gave it 4 stars. But no, I have no love for this set of miserable characters.
Main character Nate was thoroughly unlikable. He was moody and taciturn. He was standoffish and treated his friends poorly, often to the point of being intentionally hurtful. Worse, he knew what he was doing and did it anyway. Yes, he was dealing with a recent break-up (and losing his father as a child) but I couldn't see how any of it excused his behavior.
He "best friend" (ha, some friend!) and ex-girlfriend Flo was horrible. She cheated on him when they were together and then had the audacity to insist he be friends with her new girlfriend. WT-actual-F? And when he showed any emotion about her cheating, she copped an attitude. When he showed interest in Ollie, she got mad and quit speaking to him. Note to Nate: this person is not your friend!
The only one I actually liked was poor Ollie. And I felt like telling him to run-don't-walk back to Santa Fe and ditch these toxic people.
They argued, they gave each other the silent treatment, they made up. Rinse and repeat. I'd had enough.
DNF @ 192 pages
WHAT'S THE LAST BOOK YOU DNF'D?