This week's Top Ten Tuesday topic:
Favorite Audiobooks
Sometimes it's the story, sometimes it's the narrator(s), sometimes it's the combination of the two. I've become a huge fan of audiobooks over the last few years and have both favorite audiobooks and favorite narrators. When the right story is matched with the right narrator... it's magic. It's a unique experience to have a voice pulling you into the story as you hang on their every word. In no particular order, here are my favorites.
Becky Albertalli
Narrator: Michael Crouch
Length: 6 hrs 45 mins
Synopsis:
Sixteen-year-old and not-so-openly gay Simon Spier prefers to save his drama for the school musical. But when an email falls into the wrong hands, his secret is at risk of being thrust into the spotlight. Now change-averse Simon has to find a way to step out of his comfort zone before he's pushed out without alienating his friends, compromising himself, or fumbling a shot at happiness with the most confusing, adorable guy he's never met.
I've read Simon Vs the Homo Sapiens Agenda twice but I've listened to it countless times. (If I had to guess I'd say 10 times at least.) And I said this list was in no particular order but if I had to pick a top favorite, this is the one. Michael Crouch absolutely embodies Simon in all his teenage self-awareness, angst and humor.
The Others series #1
Anne Bishop
Narrator: Alexandra Harris
Length: 18 hrs 33 mins
Synopsis:
As a "cassandra sangue," or blood prophet, Meg Corbyn can see the future when her skin is cut--a gift that feels more like a curse. Meg's Controller keeps her enslaved so he can have full access to her visions. But when she escapes, the only safe place Meg can hide is at the Lakeside Courtyard--a business district operated by the Others.
Shape-shifter Simon Wolfgard is reluctant to hire the stranger who inquires about the Human Liaison job. First, he senses she's keeping a secret, and second, she doesn't smell like human prey. Yet a stronger instinct propels him to give Meg the job. And when he learns the truth about Meg and that she's wanted by the government, he'll have to decide if she's worth the fight between humans and the Others that will surely follow.
Alexandra Harris voices the entire Others series and truly brings main character Meg Corbyn to life, along with all the other inhabitants on the Lakeside Courtyard. Meg has a sweet, almost childlike quality and Harris's voice presents that perfectly. Every character's voice is so distinctive that there is never a question as to who is speaking.
Hillary Rodham Clinton
Narrator: Hillary Rodham Clinton
Length: 18 hrs 35 mins
Synopsis:
For the first time, Hillary Rodham Clinton reveals what she was thinking and feeling during one of the most controversial and unpredictable presidential elections in history. Now free from the constraints of running, Hillary takes you inside the intense personal experience of becoming the first woman nominated for president by a major party in an election marked by rage, sexism, exhilarating highs and infuriating lows, stranger-than-fiction twists, Russian interference, and an opponent who broke all the rules. This is her most personal memoir yet.
The election of 2016 was unprecedented and historic. What Happened is the story of that campaign and its aftermath—both a deeply intimate account and a cautionary tale for the nation.
Listening to What Happened, in Clinton's own voice, was a worthy, eye-opening experience – both for the political aspect and the candid look at the woman behind the politics.
Liz Nugent
Narrators: Sam O'Mahony, Roy McMillan, Kevin Hely, Tracy Keating, Stephen Hogan, Kathy O'Brien, Steven Laverty, Michele Moran
Length: 6 hrs 50 mins
Synopsis:
Oliver Ryan, handsome, charismatic, and successful, has long been married to his devoted wife, Alice. Together they write and illustrate award-winning children s books; their life together one of enviable privilege and ease until, one evening after a delightful dinner, Oliver delivers a blow to Alice that renders her unconscious, and subsequently beats her into a coma.
In the aftermath of such an unthinkable event, as Alice hovers between life and death, the couple s friends, neighbors, and acquaintances try to understand what could have driven Oliver to commit such a horrific act. As his story unfolds, layers are peeled away to reveal a life of shame, envy, deception, and masterful manipulation.
The narration was perfection and played such a big part in my enjoyment of this one. The voices, the accents, the delivery – all were so distinct and brought the story to life. Having a full cast definitely added to the overall enjoyment.
Royally Series #1
Emma Chase
Narrators: Andi Arndt, Shane East
Length: 9 hrs 39 mins
Synopsis:
Nicholas Arthur Frederick Edward Pembrook, Crowned Prince of Wessco, a.k.a. "His Royal Hotness," is wickedly charming, devastatingly handsome, and unabashedly arrogant―hard not to be when people are constantly bowing down to you.
Then, one snowy night in Manhattan, the prince meets a dark haired beauty who doesn't bow down. Instead, she throws a pie in his face.
Nicholas wants to find out if she tastes as good as her pie, and this heir apparent is used to getting what he wants.
Dating a prince isn't what waitress Olivia Hammond ever imagined it would be.
There's a disapproving queen, a wildly inappropriate spare heir, relentless paparazzi, and brutal public scrutiny. While they've traded in horse drawn carriages for Rolls Royces and haven't chopped anyone's head off lately, the royals are far from accepting of this commoner.
But to Olivia―Nicholas is worth it.
Nicholas grew up with the whole world watching, and now Marriage Watch is in full force. In the end, Nicholas has to decide who he is and, more importantly, who he wants to be: a King...or the man who gets to love Olivia forever.
Andi Arndt and Shane East narrate all four books in this series and they are just perfection. Each story is funny and sexy and swoony and the voice work from Arndt and East brings every single character to life. I can listen to each book in this series again and again.
Anna Kendrick
Narrator: Anna Kendrick
Length: 6 hrs
Synopsis:
Anna Kendrick's autobiographical collection of essays amusingly recounts memorable moments throughout her life, from her middle class upbringing in New England to the blockbuster movies that have made her one of Hollywood's most popular actresses today. Expanding upon the witty and ironic dispatches for which she is known, Anna Kendrick's essays offer her one-of-a-kind commentary on the absurdities she's experienced on her way to and from the heart of pop culture.
Listening to this on audio is definitely the way to go. Anna's dead pan delivery and sarcasm are so suited for this format. There were several laugh out loud moments and, even though this wasn't anything life-altering, it was totally entertaining.
Amber Smith
Narrator: Rebekkah Ross
Length: 9 hrs 36 mins
Synopsis:
Eden was always good at being good. Starting high school didn't change who she was. But the night her brother's best friend rapes her, Eden's world capsizes.

What was once simple, is now complex. What Eden once loved—who she once loved—she now hates. What she thought she knew to be true, is now lies. Nothing makes sense anymore, and she knows she's supposed to tell someone what happened but she can't. So she buries it instead. And she buries the way she used to be.

Told in four parts—freshman, sophomore, junior, and senior year—this provocative debut reveals the deep cuts of trauma. But it also demonstrates one young woman's strength as she navigates the disappointment and unbearable pains of adolescence, of first love and first heartbreak, of friendships broken and rebuilt, and while learning to embrace a power of survival she never knew she had hidden within her heart.
This was top-notch storytelling. Eden's story was horrific and the aftermath of her attack was heartbreaking. Her every thought and action was defined by that horrific act. And hearing Eden tell her story, hearing her thoughts and her words, hearing her anguish... it made an incredible impact.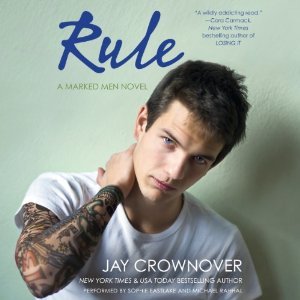 Rule
Marked Men series #1
Jay Crowover
Narrators: Sophie Eastlake, Michael Rahhal
Length: 10 hrs 18 mins
Synopsis:
Shaw Landon loved Rule Archer from the moment she laid eyes on him. Rule is everything a straight-A pre-med student like Shaw shouldn't want - and the only person she's never tried to please. She isn't afraid of his scary piercings and tattoos or his wild attitude. Though she knows that Rule is wrong for her, her heart just won't listen.
To a rebel like Rule Archer, Shaw Landon is a stuck-up, perfect princess - and his dead twin brother's girl. She lives by other people's rules; he makes his own. He doesn't have time for a good girl like Shaw - even if she's the only one who can see the person he truly is.
But a short skirt, too many birthday cocktails, and spilled secrets lead to a night neither can forget. Now, Shaw and Rule have to figure out how a girl like her and a guy like him are supposed to be together without destroying their love...or each other.
I'm showing the graphic and
synopsis
for Rule, but this is really for the entire Marked Men series. I've

listened

to the entire six book series multiple times and these characters have become old friends. While I've

enjoyed

some narrators more than others, they each brought something new and gave the characters life and an individual voice. Even blindfolded, I would be able to listen to any one of the Marked Men novels and know just who was speaking.
The Seven Husbands of Evelyn Hugo
Taylor Jenkins Reid
Narrators: Alma Cuervo, Jill Whelan, Robin Miles
Length: 12 hrs 10 mins
Synopsis:
Aging and reclusive Hollywood movie icon Evelyn Hugo is finally ready to tell the truth about her glamorous and scandalous life. But when she chooses unknown magazine reporter Monique Grant for the job, no one is more astounded than Monique herself. Why her? Why now?
Monique is not exactly on top of the world. Her husband has left her, and her professional life is going nowhere. Regardless of why Evelyn has selected her to write her biography, Monique is determined to use this opportunity to jumpstart her career.
Summoned to Evelyn's luxurious apartment, Monique listens in fascination as the actress tells her story. From making her way to Los Angeles in the 1950s to her decision to leave show business in the '80s, and, of course, the seven husbands along the way, Evelyn unspools a tale of ruthless ambition, unexpected friendship, and a great forbidden love. Monique begins to feel a very real connection to the legendary star, but as Evelyn's story near its conclusion, it becomes clear that her life intersects with Monique's own in tragic and irreversible ways.
After reading The Seven Husbands of Evelyn Hugo last year I almost immediately wanted to re-read it. I decided to listen to the audio version for the re-read and what a fantastic
experience
. Alma Cuervo in particular was captivating as Evelyn and her delivery totally captured Evelyn's larger-than-life persona.
The Cruel Prince
Holly Black
Narrator: Caitlin Kelly
Length: 12 hrs 36 mins
Synopsis:
Jude was seven years old when her parents were murdered and she and her two sisters were stolen away to live in the treacherous High Court of Faerie. Ten years later, Jude wants nothing more than to belong there, despite her mortality. But many of the fey despise humans. Especially Prince Cardan, the youngest and wickedest son of the High King.
To win a place at the Court, she must defy him–and face the consequences.
In doing so, she becomes embroiled in palace intrigues and deceptions, discovering her own capacity for bloodshed. But as civil war threatens to drown the Courts of Faerie in violence, Jude will need to risk her life in a dangerous alliance to save her sisters, and Faerie itself.
I switched to the audio version when I initially found the start of The Cruel Prince to be a bit slow-going.
The narration was done well and went a long way in helping me get invested in the plot. Caitlin Kelly voiced each character uniquely and it was always obvious who was speaking. She was able to impart emotion so well with Jude and it added a lot to particularly dramatic or emotional scenes.
Do you listen to audiobooks?
What's your favorite?