This week's Top Ten Tuesday topic:
Standalone Books That Need a Sequel
I was recently bemoaning the fact that it seems standalones are going the way of the dinosaur. It feels as if every new release is part of a series. And I get it from a marketing standpoint - more books equals more profit - but sometimes I have total series overload.
And here is where I contradict myself. Because there are those rare occasions when I turn the last page of a standalone novel and think, "Nope, not done. I need more." And I look around for a sequel to magically appear. But it doesn't appear and this generates a big sad face. And plaintive missives to the author kindly requesting (read: pitifully begging) that s/he revisit said book and Give Me More. It never works but whatever. Here are the standalone books that have me desperate for a sequel.
Rainbow Rowell
Synopsis:
Two misfits.
One extraordinary love.
Eleanor... Red hair, wrong clothes. Standing behind him until he turns his head. Lying beside him until he wakes up. Making everyone else seem drabber and flatter and never good enough...Eleanor.
Park... He knows she'll love a song before he plays it for her. He laughs at her jokes before she ever gets to the punch line. There's a place on his chest, just below his throat, that makes her want to keep promises...Park.
Set over the course of one school year, this is the story of two star-crossed sixteen-year-olds—smart enough to know that first love almost never lasts, but brave and desperate enough to try.
This book - and these two characters - hold such a special place in my heart. I've re-read this one several times and that ending gets me every time. The postcard, the three words... I need to know! And even more than needing to know what was written on that postcard, I need to know that Eleanor and Park are okay.
Taylor Jenkins Reid
Synopsis:
Elsie and Ben are average twenty-somethings, but this is not your average love story. It begins bright and promising: the newlywed couple is head over heels in love, having eloped six months after they met. But it all shatters in an instant; Ben out riding his bike, is hit by a truck—and dies on impact.
Elsie hears the sirens outside her apartment, but by the time she gets downstairs, his body has already been taken to the hospital. When she arrives, Elsie is greeted by an unexpected visitor—her mother-in-law, Susan, whom she has never met and who doesn't even know she exists.
Interweaving Elsie and Ben's charmed romance with Elsie and Susan's healing process,
Forever, Interrupted
will make you laugh, make you cry, and remind you that there's more than one way to live happily ever after.
Even though this ended on a hopeful note, I still find myself thinking about Elsie. I'd love to know where she's at now and how she's doing. And the same goes for Susan. They both truly deserved some happiness in their lives and I'd like to know they found it.
Robin Roe
Synopsis:
When Adam Blake lands the best elective ever in his senior year, serving as an aide to the school psychologist, he thinks he's got it made. Sure, it means a lot of sitting around, which isn't easy for a guy with ADHD, but he can't complain, since he gets to spend the period texting all his friends. Then the doctor asks him to track down the troubled freshman who keeps dodging her, and Adam discovers that the boy is Julian—the foster brother he hasn't seen in five years.
Adam is ecstatic to be reunited. At first, Julian seems like the boy he once knew. He's still kindhearted. He still writes stories and loves picture books meant for little kids. But as they spend more time together, Adam realizes that Julian is keeping secrets, like where he hides during the middle of the day, and what's really going on inside his house. Adam is determined to help him, but his involvement could cost both boys their lives.
This book absolutely broke my heart and had me weepy on more than one occasion. My heart ached for Julian and I just wanted to give him a hug and make everything okay. I'd love an epilogue just so I could know that Julian was eventually able to move on. Robin Roe, take pity on my fragile heart.
K.A. Tucker
Synopsis:
Calla Fletcher was two when her mother took her and fled the Alaskan wild, unable to handle the isolation of the extreme, rural lifestyle, leaving behind Calla's father, Wren Fletcher, in the process. Calla never looked back, and at twenty-six, a busy life in Toronto is all she knows. But when her father reaches out to inform her that his days are numbered, Calla knows that it's time to make the long trip back to the remote frontier town where she was born.
She braves the roaming wildlife, the odd daylight hours, the exorbitant prices, and even the occasional—dear God—outhouse, all for the chance to connect with her father: a man who, despite his many faults, she can't help but care for. While she struggles to adjust to this new subarctic environment, Jonah—the quiet, brooding, and proud Alaskan pilot who keeps her father's charter plane company operational—can't imagine calling anywhere else home. And he's clearly waiting with one hand on the throttle to fly this city girl back to where she belongs, convinced that she's too pampered to handle the wild.
Jonah is probably right, but Calla is determined to prove him wrong. As time passes, she unexpectedly finds herself forming a bond with the burly pilot. As his undercurrent of disapproval dwindles, it's replaced by friendship—or perhaps something deeper? But Calla is not in Alaska to stay and Jonah will never leave. It would be foolish of her to kindle a romance, to take the same path her parents tried—and failed at—years ago.
It's a simple truth that turns out to be not so simple after all.
Even though this one ended well, and I feel certain that things worked out just as they were meant to, for purely selfish reasons I want to have more, more, more of Calla and Jonah and what their lives look like now.
Christina Lauren
Synopsis:
Three years ago, Tanner Scott's family relocated from California to Utah, a move that nudged the bisexual teen temporarily back into the closet. Now, with one semester of high school to go, and no obstacles between him and out-of-state college freedom, Tanner plans to coast through his remaining classes and clear out of Utah.

But when his best friend Autumn dares him to take Provo High's prestigious Seminar—where honor roll students diligently toil to draft a book in a semester—Tanner can't resist going against his better judgment and having a go, if only to prove to Autumn how silly the whole thing is. Writing a book in four months sounds simple. Four months is an eternity.

It turns out, Tanner is only partly right: four months is a long time. After all, it takes only one second for him to notice Sebastian Brother, the Mormon prodigy who sold his own Seminar novel the year before and who now mentors the class. And it takes less than a month for Tanner to fall completely in love with him.
This ending left me wanting more. Yes, I can imagine what followed but I'm greedy. I really, really want need more of Tanner and Sebastian.
Helen Hoang
Synopsis:
Stella Lane thinks math is the only thing that unites the universe. She comes up with algorithms to predict customer purchases — a job that has given her more money than she knows what to do with, and way less experience in the dating department than the average thirty-year-old.
It doesn't help that Stella has Asperger's and French kissing reminds her of a shark getting its teeth cleaned by pilot fish. Her conclusion: she needs lots of practice — with a professional. Which is why she hires escort Michael Phan. The Vietnamese and Swedish stunner can't afford to turn down Stella's offer, and agrees to help her check off all the boxes on her lesson plan — from foreplay to more-than-missionary position...
Before long, Stella not only learns to appreciate his kisses, but to crave all the other things he's making her feel. Soon, their no-nonsense partnership starts making a strange kind of sense. And the pattern that emerges will convince Stella that love is the best kind of logic.
What more can you want after the perfect HEA? Um, if you're me... even more, please. There is absolutely no reason for a continuation of Michael and Stella's story but I don't care. I'm throwing it in here just because I love them and how awesome would it be to have even more?
Heather Demetrios
Synopsis:
If Skylar Evans were a typical Creek View girl, her future would involve a double-wide trailer, a baby on her hip, and the graveyard shift at Taco Bell. But after graduation, the only thing separating Skylar from art school is three months of summer…until Skylar's mother loses her job, and Skylar realizes her dreams may be slipping out of reach.
Josh had a different escape route: the Marines. But after losing his leg in Afghanistan, he returns home, a shell of the cocksure boy he used to be.
What brings Skylar and Josh together is working at the Paradise—a quirky motel off California's Highway 99. Despite their differences, their shared isolation turns into an unexpected friendship and, soon, something deeper.
Compelling and ultimately hopeful, this is a powerful examination of love, loss, and resilience.
This book is incredibly special to me. It made a huge impact on me and is one of my very favorites. I would love to have more of Josh and Sky's story. I have no doubt they are together but I would love to know what the future held for them and where they're at today

.
Christina Lauren
Synopsis:
Hazel Camille Bradford knows she's a lot to take—and frankly, most men aren't up to the challenge. If her army of pets and thrill for the absurd don't send them running, her lack of filter means she'll say exactly the wrong thing in a delicate moment. Their loss. She's a good soul in search of honest fun.
Josh Im has known Hazel since college, where her zany playfulness proved completely incompatible with his mellow restraint. From the first night they met—when she gracelessly threw up on his shoes—to when she sent him an unintelligible email while in a post-surgical haze, Josh has always thought of Hazel more as a spectacle than a peer. But now, ten years later, after a cheating girlfriend has turned his life upside down, going out with Hazel is a breath of fresh air.
Not that Josh and Hazel date. At least, not each other. Because setting each other up on progressively terrible double blind dates means there's nothing between them...right?
This one is very similar to The Kiss Quotient in that it ended perfectly (this one even had a swoony epilogue that had my heart bursting with the sheer perfectness of it) but I just loved these two characters and wasn't ready to say goodbye. I'd keep reading about them book after book if I could.
It Ends With Us
Colleen Hoover
Synopsis:
Lily hasn't always had it easy, but that's never stopped her from working hard for the life she wants. She's come a long way from the small town in Maine where she grew up
— she graduated from college, moved to Boston, and started her own business. So when she feels a spark with a gorgeous neurosurgeon named Ryle Kincaid, everything in Lily's life suddenly seems almost too good to be true.
Ryle is assertive, stubborn, maybe even a little arrogant. He's also sensitive, brilliant, and has a total soft spot for Lily. And the way he looks in scrubs certainly doesn't hurt. Lily can't get him out of her head. But Ryle's complete aversion to relationships is disturbing. Even as Lily finds herself becoming the exception to his "no dating" rule, she can't help but wonder what made him that way in the first place.
As questions about her new relationship overwhelm her, so do thoughts of Atlas Corrigan — her first love and a link to the past she left behind. He was her kindred spirit, her protector. When Atlas suddenly reappears, everything Lily has built with Ryle is threatened.

When it comes to Colleen Hoover I'm rarely ready for her books to end. Over the course of the story I've grown to love the characters and would always be happy with more. But with It Ends With Us, even though the story ended well, I felt like there was a whole other story just waiting in the wings. And I'd love to read that story one day.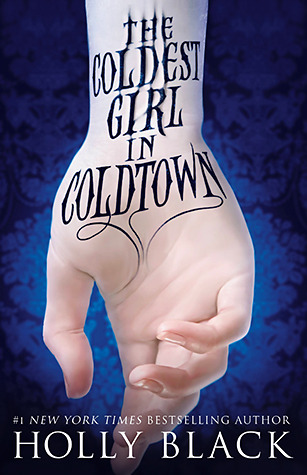 The Coldest Girl in Coldtown
Holly Black
Synopsis:

Tana lives in a world where walled cities called Coldtowns exist. In them, quarantined monsters and humans mingle in a decadently bloody mix of predator and prey. The only problem is, once you pass through Coldtown's gates, you can never leave.





One morning, after a perfectly ordinary party, Tana wakes up surrounded by corpses. The only other survivors of this massacre are her exasperatingly endearing ex-boyfriend, infected and on the edge, and a mysterious boy burdened with a terrible secret. Shaken and determined, Tana enters a race against the clock to save the three of them the only way she knows how: by going straight to the wicked, opulent heart of Coldtown itself.





The Coldest Girl in Coldtown

is a wholly original story of rage and revenge, of guilt and horror, and of love and loathing from bestselling and acclaimed author Holly Black.
If I could pick only one book to have a sequel, this is the one. I clearly remember finishing this one (5+ years ago) and thinking "There has to be more. I have to know what happens next." While on one hand I give Black kudos for containing her story to a single novel, if ever a standalone could use a sequel The Coldest Girl in Coldtown is that book. Even after several years I still want to know exactly what happened to Tana (did she turn or didn't she?!) and Gavriel was one of the most interesting characters ever and I definitely need more of him. Unfortunately there's never been even a whisper of a sequel so I'll have to let my imagination fill in the blanks with this one.
Have you read any of these books?
What book do you think needs a sequel?