This week's Top Ten Tuesday topic:
Books on My Spring 2019 TBR
I always giggle myself silly when I do these TBR posts because I never, ever stick to them. And I know that even as I create them. But it's fun to pretend so I'll continue to play along. So here's my Spring TBR (bahaha!) with a mix of backlist titles and new releases
.
Helen Hoang
Synopsis:
Khai Diep has no feelings. Well, he feels irritation when people move his things or contentment when ledgers balance down to the penny, but not big, important emotions—like grief. And love. He thinks he's defective. His family knows better—that his autism means he just processes emotions differently. When he steadfastly avoids relationships, his mother takes matters into her own hands and returns to Vietnam to find him the perfect bride.
As a mixed-race girl living in the slums of Ho Chi Minh City, Esme Tran has always felt out of place. When the opportunity arises to come to America and meet a potential husband, she can't turn it down, thinking this could be the break her family needs. Seducing Khai, however, doesn't go as planned. Esme's lessons in love seem to be working…but only on herself. She's hopelessly smitten with a man who's convinced he can never return her affection.
With Esme's time in the United States dwindling, Khai is forced to understand he's been wrong all along. And there's more than one way to love.
Tracey Garvis Graves
Synopsis:
Annika (rhymes with Monica) Rose is an English major at the University of Illinois. Anxious in social situations where she finds most people's behavior confusing, she'd rather be surrounded by the order and discipline of books or the quiet solitude of playing chess.

Jonathan Hoffman joined the chess club and lost his first game--and his heart--to the shy and awkward, yet brilliant and beautiful Annika. He admires her ability to be true to herself, quirks and all, and accepts the challenges involved in pursuing a relationship with her. Jonathan and Annika bring out the best in each other, finding the confidence and courage within themselves to plan a future together. What follows is a tumultuous yet tender love affair that withstands everything except the unforeseen tragedy that forces them apart, shattering their connection and leaving them to navigate their lives alone.

Now, a decade later, fate reunites Annika and Jonathan in Chicago. She's living the life she wanted as a librarian. He's a Wall Street whiz, recovering from a divorce and seeking a fresh start. The attraction and strong feelings they once shared are instantly rekindled, but until they confront the fears and anxieties that drove them apart, their second chance will end before it truly begins.
Kandi Steiner
Synopsis:
I never learn my lesson.
And I always want what I can't have.
When Sarah Henderson walks into my life, I tell myself she's off limits. She's my student, sixteen years younger than me, and my boss's niece. It doesn't matter that I see the same pain reflected in her eyes that I have in my own, or that the dead organ better known as my heart kicks to life when she's around.
I've been here before, and I know how this ends.
It's been two years since I fell for the last woman I knew I couldn't have, the one with the ring on her finger that I chose to ignore.
Two years of trying to overcome that heartache when Sarah slides into my life.
Another woman I can't have. Another woman I can't stop myself from wanting.
I never learn my lesson, but with a constant reminder of how that last forbidden love burned, I think I've finally learned this one.
This time, I won't chase what's off limits.
This time, I'm staying away.
And I'll keep telling myself that until I believe it.
Julie Buxbaum
Synopsis:
Abbi Hope Goldstein is like every other teenager, with a few smallish exceptions: her famous alter ego, Baby Hope, is the subject of internet memes, she has asthma, and sometimes people spontaneously burst into tears when they recognize her. Abbi has lived almost her entire life in the shadow of the terrorist attacks of September 11. On that fateful day, she was captured in what became an iconic photograph: in the picture, Abbi (aka "Baby Hope") wears a birthday crown and grasps a red balloon; just behind her, the South Tower of the World Trade Center is collapsing.
Now, fifteen years later, Abbi is desperate for anonymity and decides to spend the summer before her seventeenth birthday incognito as a counselor at Knights Day Camp two towns away. She's psyched for eight weeks in the company of four-year-olds, none of whom have ever heard of Baby Hope.
Too bad Noah Stern, whose own world was irrevocably shattered on that terrible day, has a similar summer plan. Noah believes his meeting Baby Hope is fate. Abbi is sure it's a disaster. Soon, though, the two team up to ask difficult questions about the history behind the Baby Hope photo. But is either of them ready to hear the answers?
Christina Lauren
Synopsis:
Olive is always unlucky: in her career, in love, in…well, everything. Her identical twin sister Amy, on the other hand, is probably the luckiest person in the world. Her meet-cute with her fiancé is something out of a romantic comedy (gag) and she's managed to finance her entire wedding by winning a series of Internet contests (double gag). Worst of all, she's forcing Olive to spend the day with her sworn enemy, Ethan, who just happens to be the best man.
Olive braces herself to get through 24 hours of wedding hell before she can return to her comfortable, unlucky life. But when the entire wedding party gets food poisoning from eating bad shellfish, the only people who aren't affected are Olive and Ethan. And now there's an all-expenses-paid honeymoon in Hawaii up for grabs.
Putting their mutual hatred aside for the sake of a free vacation, Olive and Ethan head for paradise, determined to avoid each other at all costs. But when Olive runs into her future boss, the little white lie she tells him is suddenly at risk to become a whole lot bigger. She and Ethan now have to pretend to be loving newlyweds, and her luck seems worse than ever. But the weird thing is that she doesn't mind playing pretend. In fact, she feels kind of... lucky.
Sarina Bowen
Synopsis: S
kye Copeland is on paid leave from her broadcasting job after accidentally drawing a pecker on the traffic map.
Let that sink in. Like it's her fault the traffic pattern that day created a perfect schlong?
Skye isn't laughing. She needs this job. And that's the only reason she's agreed to chase down a story in her least favorite place—that hell on earth known as Vermont.
A quick trip. In and out. Much like - never mind. Skye can sneak into the town that once tried to break her, get the story and get back into the good graces of her producer. Easy peasy.
Except things go sideways even as she sets foot over the county line. Her step-sister is on the run from a violent drug dealer. And the cop on the case is none other than Benito Rossi, the man who broke her teenage heart.
His dark brown eyes still tear her apart. And even as she steels herself to finally tell him off after twelve years, the old fireworks are still there.
Things are about to go boom.
Pepper Winters
Synopsis:
"Things you should know about me from the very beginning:
I was born to true love, witnessed the destruction it causes, and vowed never to let such agony happen to me. I am not a story-teller like my father. I am not a writer like my mother. I am just a son—their son.
I am happy being alone.
And that is all I ever want to be."
JACOB
The day he was born, Jacob learned his hardest and longest lesson.
It wasn't a lesson a boy should learn so young, but from his earliest memories he knew where happiness lives, so does tragedy. Where love exists, so does heartbreak. And where hope resides, so does sorrow.
That lesson carved him from the kid to the teen to the man.
And nothing and no one could change his mind.
HOPE
I first met him when he was fourteen at a movie premiere of all places. A movie based on his parent's life.
He was stoic, strong, suspicious, and secretive.
I was only ten, but I felt something for him. A strange kind of sorrow that made me want to hug and heal him.
I was the daughter of the actor hired to play his father.
We shared similarities.
I recognized parts of him because they were parts of me.
But no matter how many times we met. No matter how many times I tried.
He stayed true to his vow to never fall.
Lorelei James
Synopsis:
Former NHL star Jaxson Lund has returned to the Twin Cities, but he's at loose ends, unsure if he belongs at Lund Industries, or where he stands with Lucy, his ex-girlfriend and mother of his daughter, Mimi. Despite the signs she'd like to leave him in the penalty box, the attraction burning between them reinforces his determination to prove that he deserves a second chance...
Lucy Quade is in a good place with a steady job, a nice apartment, and a well-adjusted daughter, which is why she's hesitant when Jax insists on co-parenting. It's not that Lucy doesn't trust Jax...she's just unconvinced he can handle multiple responsibilities when he's been singularly focused on playing hockey. But when issues arise with Mimi, Lucy's shocked at how levelheaded and paternal he acts, giving her a glimpse of the Jax she used to know, the sexy, sweet man she fell for years ago.
Once Lucy lets her guard down, Jax goes all in to show her how good they are together, but will their past remain too large an obstacle to ever overcome?
What the Wind Knows
Amy Harmon
Synopsis:
Anne Gallagher grew up enchanted by her grandfather's stories of Ireland. Heartbroken at his death, she travels to his childhood home to spread his ashes. There, overcome with memories of the man she adored and consumed by a history she never knew, she is pulled into another time.

The Ireland of 1921, teetering on the edge of war, is a dangerous place in which to awaken. But there Anne finds herself, hurt, disoriented, and under the care of Dr. Thomas Smith, guardian to a young boy who is oddly familiar. Mistaken for the boy's long-missing mother, Anne adopts her identity, convinced the woman's disappearance is connected to her own.

As tensions rise, Thomas joins the struggle for Ireland's independence and Anne is drawn into the conflict beside him. Caught between history and her heart, she must decide whether she's willing to let go of the life she knew for a love she never thought she'd find. But in the end, is the choice actually hers to make?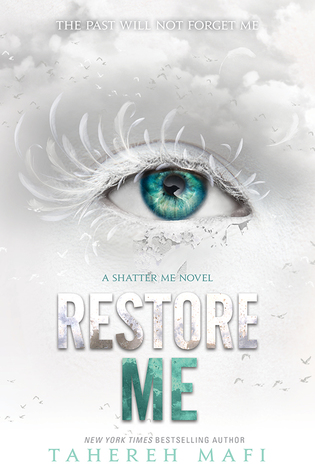 Restore Me
Tahereh Mafi
Synopsis:
Juliette Ferrars thought she'd won. She took over Sector 45, was named the new Supreme Commander, and now has Warner by her side. But she's still the girl with the ability to kill with a single touch—and now she's got the whole world in the palm of her hand. When tragedy hits, who will she become? Will she be able to control the power she wields and use it for good?
Are any of these books on your TBR?
What book tops your Spring TBR?